Special Operations Low Level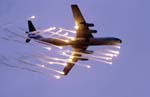 In addition to the MC-130's, the USAF also has two squadrons of "conventional" cargo aircraft that have ben modified to augment their capacities and allow them to perform some limited special operations support. The official name for these types of missions is SOLL II, or Special Operations Low Level, version Two.




Thirteen C-141 Starlifters and an unknown (to me) number of C-5 Galaxies were modified for the mission. The lighting in the cockpits were modified to make them compatible with Night vision goggles. An AAQ-17 FLIR was added to allow the pilots to see terrain at night, as well as a NVG compatible HUD ( Heads Up Display ) to provide critical flight information to the pilot at eye level to allow them to fly without having to take their eyes off the windows during critical times. GPS rounds out the navigational augmentations, and for defense there are a multitude of IR and radar threat detection and defensive systems tied in to flare and chaff launchers that will help distract enemy missiles.
The changes aren't limited to the cockpit; changes are made so that the entire crew has augmented abilities. The cargo area is fitted for Night Vision Goggle use, and Infrared exterior lights were added to aid in ground handling and landings. A special pexiglass bubble has also been fitted that allows the loadmaster to watch outside the aircraft for surface to air missiles.




These added avionics allow the SOLL II aircraft to perform nighttime missions on dark moon less or stormy nights without any lights at all. Missions are carried out at low altitude to avoid enemy radar. Besides nighttime cargo drops, the SOLL II Starlifters can also insert or pickup special operations forces faster and farther away than the AFSOC operated C-130 variants. The C-141 is an aging aircraft, however, with restrictions placed on how much it can carry. At some point in the future ( around 2003 ) the C-17 Globemaster III will take over the C-141's role in the SOLL II missions.
The C-141 SOLL II are operated by a crew of five, including two pilots, a navigator, flight engineer, and a load master. In the event of a long mission or one with a higher than normal stress load on the pilots extra crew members will be deployed on each aircraft. All C-141 SOLL II aircraft are based out of McGuire AFB in New Jersey