Bell/Boeing V-22 Osprey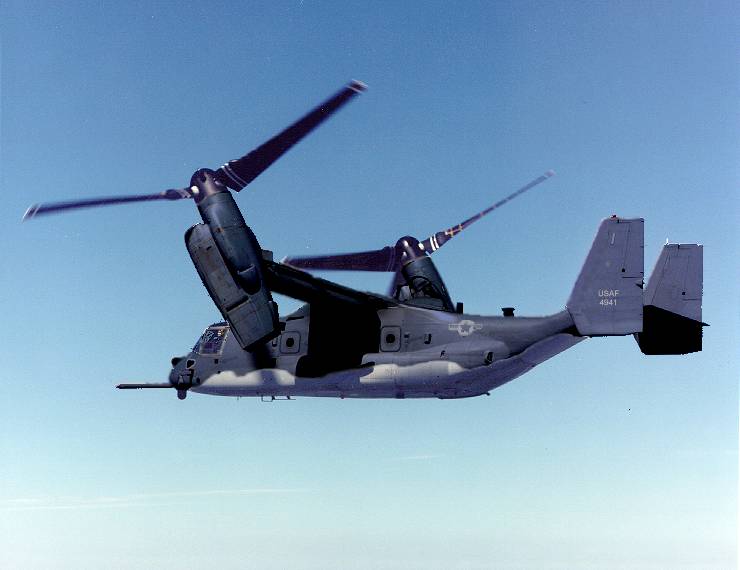 The Bell/Boeing V-22 Osprey is the US Military's next-generation long-range medium-lift cargo aircraft. Originaly a multi-service venture, the Navy at one point dropped out, leaving the US Marine Corps and US Air Force as the principle funders of this aircraft. The V-22 is a unique design that combines the abilities of a rotary-winged aircraft (A helicopter) and a fixed-wing airplane, creating an aircraft that can hover but also has long range at relatively fast speeds. The US Marine Corps intends to replace both the CH-53E Super Sea Stallion and CH-46 Sea Knight (aka Frog) with their varient, the MV-22. The US Air Force intends to replace both the MH-60 Pavehawk and MH-53J/M Pave low with the CV-22 Special operations varient. With a cruising speed of around 230kts, the Osprey is almost twice as fast as the MH-53J with over three times the range without refueling.
The key to the special performance of the Osprey is it's ability to rotate the engines and prop/rotors from a level plane to a vertical one and vice versa. By doing so the thrust that drives it forward in flight lifts it off the ground and then pushes it forward as the engines transition to a normal flying attitude, by which point enough speed has been attained for the wings to work normally. The V-22's design and test phase has been long and drawn out due to design and funding problems, but it is now poised to start service all four of the US Armed services by the year 2001.




Each Service will have a unique avionics and equipment suite on the V-22 Osprey. It is anticipated that all of the Special Forces varients will have refueling capacities. Some will carry additional fuel or armor. The Air Force has stated that their varient will be expected to be able to fly 500 nautical miles at altitudes under 500 feet to pick up or drop off up to 18 fully equipped special operations soldiers. Manufacture of AFSOC's CV-22 varient is slated to begin in 2001 with initial deliveries scheduled for 2003. By 2009 ( I'd like to point out that at this point developement and testing will have been going on for nearly 30 years ) all 50 of AFSOC's Osprey's should be operational.
Some of the planned avionics for the V-22's includes:
"Low-probability of detection" radar altimeter
Terrain-following radar intedrated with a fully digital moving-map display
Suite of Integrated Radio Frequency Countermeasures (SIRFC), which includes an active radar jammer
Active Missile countermeasures ( Jammers and flares )
Another unique ability that all of the V-22 Osprey's have is the system for fitting the Osprey inside Navy Carriers and Air Force Cargo Aircraft. The Osprey is capable of folding it's rotorblades and wings without assistance of ground crew in under six minutes.