EC-130 Commando Solo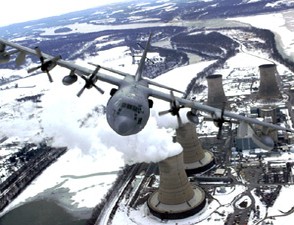 The EC-130 is flown exclusively by the Pennsylvania Air National Guard's 193rd Special Operations Squadron. The Squadron is owned but the PA ANG, but in times of war is under AFSOC's control. Due to the nature of their missions the 193rd operates and deploys often with active duty USAF SOC units. There are two different versions of the EC-130 that the 193rd operates, the EC-130E(CL) and EC-130(RR).
The EC-130E(CL) is code-named "Comfort Levi" and is used for ELINT ( Electronic Intelligence ) gathering. Enemy signals can be listened to and interpreted, giving commanders valuable information on enemy plans and status. The Comfort Levi uses a "Slide-in/Slide-out" package that can be fitted quickly to an EC-130. Antennaes are mounted on special surfaces that can be swapped with easy to replace structures ( such as acces hatches and Main landing gear doors ).
The EC-130(RR) is code-named "Commando Solo" and is used almost exclusively for Psyops, using it's ability to broadcast TV and radio signals to good effect. In a war time situation, enemy broadcasters would be destroyed or heavily damaged, at that point the Commando Solo serves as a replacement, bringing news and propaganda to populations in an effort to make the war more difficult for the enemy. In peaceful situations (such as natural disasters) the Commando Solo aircraft can bring news and information to areas whos radio and television transmitters were damaged beyond use.




In the future the USAF plans one of two upgrades. Depending on whose viewpoint wins, the EC-130E's will either be replaced with re-engined C-130J aircraft or with modified Boeing 767 airliners. If it is the 767, plans for replacing them will not reach fruition until around 2015.