MH-60 PaveHawk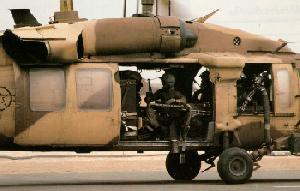 While The MH-53E Pave Low is the Air Force's main deep-penetration helicopter, the MH-60G is their main special ops utility helicopter; augmenting the Pave Low with a cheaper but more robust airframe. The Pave Hawk lacks the Pave Low's range and vast array of integrated avionics but still boasts an impressive array of electronics. Navigation is aided by a FLIR system, color weather radar, and GPS. The Pave Hawk is also outfitted with SATCOM to maintain communications wherever they deploy.
The Pave Hawk has the capacity to carry up to eleven passengers or four wounded on litters. When the situation calls for it, it can sling up to 8,000 lbs (3,600kg) from an external cargo hook mounted on its belly. The MH-60G has an unrefueld combat range of 640 miles (1046km) and a top speed of 167mph (268kph). The Pave Low has option of adding extra fuel in the cabin or on add-on stub-wings depending on the mission. Using the refueling probe mounted on the right side of the aircraft, the Pave Hawk can fly as long as the crew can endure. In the case that a mission is beyond the range or logistics ability of the Pave Hawk to fly to, the rotor blades and tail rotor can be quickly removed and the aircraft loaded on to USAF C-5 Galaxy cargo aircraft for rapid deployment.




The MH-60G has added armor to enable it to take more punishment than normal aircraft, and in addition to the defensive armor it can be armed with 7.62mm miniguns or .50 cal machine guns. It has two engines and can fly (but not hover) on only one if necessary. All of the fuel cells are bullet resistant and self-sealing. There is an improved MH-60G with terrain-following radar and added sensors undergoing testing. Other improvements include a new .50 Cal Gun Mount and added position lights.
The fate of the MH-60 fleet is unclear at this time. Currently the USAF splits its fleet between the Special Operations Wings and SAR units. It should be noted that the MH-60G Pavehawks of the Special Ops Wings and the HH-60's of the SAR units are essentially the same aircraft, the only difference being the terrain-following radar on the G. With the improved model this distinction will disappear, but by the time these aircraft reach service all HH/MH-60s may be in the dedicated SAR arena. Current plans are to have all Pavehawk aircraft under Air Combat Command control by October of 1999.