MH-47E Chinook Special Ops helicopter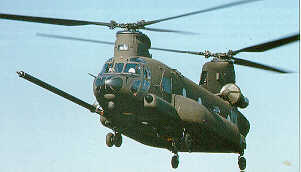 Richard Marshall 's long-range and heavy-lift special ops helicopter. An upgrade the the US Army's standard CH-47D, the MH-47E is heavily modified with increased fuel, improved avionics and radios, an in-flight refueling probe, and folding rotor blades for shipboard operations.
The first operational MH-47E was delivered to the 160th SOAR in January of 1994, although the first flight had taken place in mid 1990. The delivery followed an extensive modification and testing phase designed to give the Army a special operations craft with a greater than 90% chance of returning from a deep-penetration mission behind enemy lines.




The largest group of improvements happened to the Chinook's Avionics. An AAQ-16 FLIR , APQ-174 Terrain mapping and following radar, and a color weather radar were added along with a glass cockpit optimised for night use. The pilots each have two main displays and a ANVIS/HUD (AN/AVS-7) that allows them to fly their missions without needing to look down at the instrument panel often, if at all. The crew in back are aided by computer terminals at each station. There is extensive communication equippment, both between the crew and the soldiers and commanders on the ground. Dual SATCOM antennas on the spine of the aircraft ensure that they always have clear communication. Additionally, sensors are fitted that alert the crew to incoming fire by radar and heat-seeking missiles.
To help it carry heavy loads long distances the MH-47E had it's engines upgraded and more fuel capacity added. Two Textrom Lycoming T55L-714 engines rated at over 4,000 Shaft-horsepower were added, replacing the 3,750 -712's of the standard CH-47D. Fuel tanks in the side sponsons were replaced with larger, self-sealing tanks for more fuel capacity and safety. Additionally, up to three collapsible fuel bladders can be carried internally, with 780 gallons capacity each. All of these tanks can be fed in the air from the fixed refueling probe mounted to the forward right side of the aircraft.
With these improvements the MH-47E becomes enourmously capable; with loads of up to 25 soldiers or slung cargo at up to 115 knots long distances in bad weather or dark night. Missions can last longer than five hours unrefueld and out to ranges of greater than 300 nautical miles. Possible missions include insertion and extration of special operations forces, resupply of units behind enemy lines, setup of FARP 's, and CSAR .




The 160th is the only unit to operate this special varient of Boeing's standard heavy-lift rotar-winged aircraft. Originally 50 were planned but the number was cut to 26 due to funding problems. One MH-47E crashed with the loss of five members
Investigation into the 1996 crash of a US Army MH-47E operated by the 160th Special Operations Aviation Regiment at Fort Campbell, KY, found the likely cause to be loss of electrical power due to the presence of water in the helicopters primary ( electrical-ed ) distribution panels (PDPs). The helicopter was returning from a night-vision goggle navigation flight when it requested IFR clearance to perform an instrument approach. Approach Control directed a 15 degree right turn to the crew; the radar controller noted that the helicopter tightened its turn radius and passed its assigned heading. Controllers then lost contact with the MH-47E, which was found crashed shortly thereafter.
Investigators determined that heavy precipitation, helicopter washing, or extended overwater operations can result in water leaking into the cockpit area and entering the auxiliary power distribution panels. This causes the circuit breaker bus ties to short, resulting in either partial or complete loss to primary and standby flight instruments.




Since the accident, changes have been made to protect PDPs from water intrusion by either channeling water away from pilots doors and windows, or by designing and installing a cover for the PDP and circuit breakers.