Army Little Birds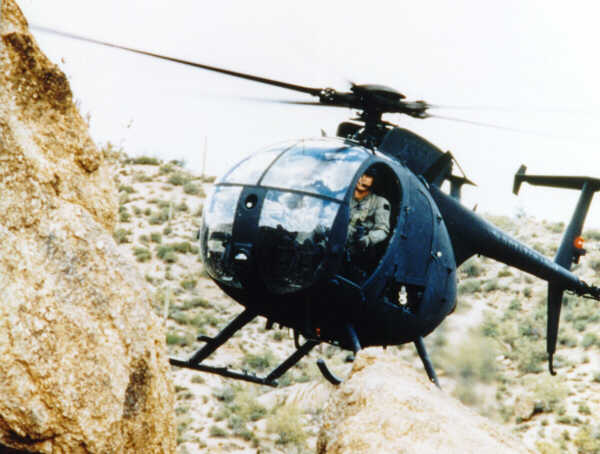 One of the prime mounts of the Army's Nightstalkers since their inception is the Hughes/McD 500 series of helicopters, known by pilots and passengers alike as "little birds." The AH/MH-6 Little Bird has been based on both the Army OH-6A Cayuse and Hughes/McDonnell-Douglas MD-500/530 series civil helicopter. Originally designed as a military scout during the Vietnam War, the OH-6 was widely used as an observation and cavalry platform. It was quite effective as part of what were known as "pink teams." The OH-6 "Loach" would find targets by flying low--right over the tree tops--and lead in AH-1 Cobras to attack them. Later civillian models became very popular in the civilian market.




Little Birds today are used for many tasks, including movement of special operations forces, resupply in tactical situations, and close-in fire support. There are two main versions, the AH-6 and the MH-6. The AH-6 is an attack varient that can carry a wide array of weapons. AH-6's can carry two 7.62 miniguns and two seven-shot 2.75 rocket pods mounted on a custom-built unitary mounting system. Other armaments include .50 cal machine guns, the Mk19 40mm grenade launcher, Hellfire missiles, and ATAS ( Air-to-Air Stinger ) missiles. Some of these aircraft had been fitted with special nose or rotor mast mounted sights for special direct action missions. The latest mod includes a conformal external fuel tank ( replacing an earlier unit which took up much of the rear compartment ) and a minigun.
For movement of personnel the MH-6 varient is used. Early versions of the MH-6 could carry up to six people on platforms mounted outside the door for quick insertion and extraction. Later models have a new six-person fold-away system. The MH-6 can be fitted with caving ladders to drop off and pick up SOF personnel in areas too small to land. There is also a hoist that allows them to rappel down to their objectives.
Both variants can be fitted with a nose mounted FLIR ( Forward Looking Infra-Red ), and both have advanced navigation and communications equipment ( including SATCOM ), NVG-compatible cockpits, and RWR ( Radar Warning Receivers ). IR supressing equipment can also be fitted as needed. The latest versions are powered by the Allison 250-C20/30 engine, which combined with the five-bladed rotor system and small, light airframe make it a manuverable and powerful machine. Despite published reports, the 160 th has never used the NOTAR (NO TAil Rotor) version of this aircraft operationally. They were tested but found to be underpowered for the missions and loads of the 160th.




A previous version, the EH-6, was used for command and control and radio relay but is no longer in use. In addition, one aircraft was modified for the NOTAR ( N o T ail R otor ) system but poor performance of this design ( NOTAR requires more power from the engine and thus decreases payload ) caused it to be returned to its original condition.
The 160th has plans to upgrade the little bird fleet. The AH/MH-6 fleet is slated to recieve a new, more powerful engine and transmission, a six-bladed rotor, and a new, four-bladed canted tail rotor ( for increased control and decreased noise ). These improvements along with improved landing gear will increase the little bird's load carrying capacity to 4,700 pounds, up from 3,950 Pounds. Also planned are a larger cargo compartment door, an improved FLIR, a "Small arms protection system," and a wireless intercom system, and a fuel system better able to withstand crashes.
To train pilots in flying the Little birds the Army has purchased a new AH/MH-6 Light Assault/Attack Reconfigurable (LASAR) Combat Mission Simulator (CMS). This simulator can provide training on both varients, including the sound and lights of firing the AH-6's weapons. The simulator is housed in a 24 foot dome that shows high-fidelity images covering the full view out the windows of a normal little bird in flight.




Little Birds have seen much action with the Nightstalkers. In Operation Just Cause, two AH-6's provided fire support for Army Rangers tasked with taking the airfield at Torrijos-Tocumen by strafing Panamanian Defense Force barracks just before the Rangers parachuted in. Two other AH-6's provided cover for the assault on the PDF headquarters or comandancia; one AH-6 was badly damanged and managed a controlled crash within the compound. Both members of the aircrew were able to escape capture and make it back behind friendly lines. An MH-6 dropped off members of the Army's 1st SFO(D) during their rescue of American Kurt Muse from a Panamanian prison.